Kirby Group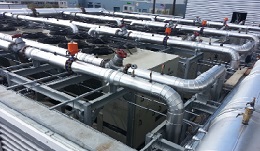 Telecity NWBP Data Centre Chilled Water System, Dublin
MSL Engineering Ltd fabricated 435 isometric piping drawings in flanged sections in the Cork Fabrication Facility. These flanged sections were subjected to NDE and painted prior to transportation to Dublin for assembly onsite. The Chilled Water System included 1,700metres of carbon steel pipework ranging in sizes from ¾" (20mm) to 24" (600mm). Every flange on this system was torqued to the required setting, witnessed by the client and recorded prior to hydrostatically pressure testing the system.
The Chilled Water System QA/QC hand over pack to the client included red-lined piping isometric drawings, marked up P&IDs (process and instrument drawings), weld logs and associated NDE (non destructive examination) reports, pressure test sign off certs with pressure gauge calibration certs and flange torqueing records.
Project Consultant: Axis Engineering
PSCS: Structuretone Ltd
Value: €900,000
Duration: 5 months