Eli Lilly, Dunderrow, Cork, Ireland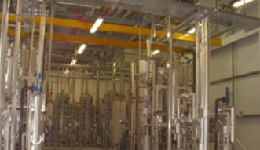 IE34 Purified Water Building
MSL were awarded the mechanical contract for the fabrication and installation of pipework and equipment. This included 1,200 metres of 3 inch high-purity pipework as part of a 5,000 metre project. All high-purity shop fabrication was completed at our purpose built clean room facility. Subcontracts included Insulation, Painting, NDE and Passivation.
Project Consultant: Project Management Group
PSCS: Project Management Group
Value: €2,000,000